Staff now settled into new office layout at shentongroup's HQ
A few months ago we at shentongroup decided to have a complete makeover at our Head Office in Andover Hampshire.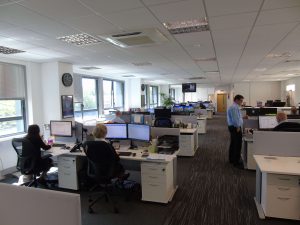 With staff numbers increasing to over 60 and the need for more and improved office space our Projects team set about redesigning the office.
We are very proud of our Head Office as it is open and modern in design and it has been deliberately laid out in a way to promote an exchange of ideas between staff and departments.
Clients love to come and visit and always comment on how fresh the offices look and what friendly staff we have working here, this is really important to us! We also hold seminars and CPD's in our highly equipped meeting room.
When clients are going to invest large sums of money into a Generator, CHP or UPS they need to be confident that they are dealing with an established company with staff who care and know what they are doing. We feel our Head office is another way of giving this confidence to our clients and showing them we are a serious business who takes their business seriously.
.