What about CHP maintenance?
Shenton Group service and maintain variety of CHP manufacturers' equipment. Our CHP maintenance contracts are charged based on run hours which provides an incentive to ensure that maximum run hours are achieved to ensure the fastest ROI for you.
Bespoke Contracts
We can offer fixed-cost contracts that use a more all-inclusive approach, or lower-cost contracts where extras are chargeable. Whatever your standard and budget, we have a solution to suit you.
The Infinium24 maintenance package
Shenton Group carries out all of the servicing, provides all of the parts, all of the labour and conducts any call outs, all for a guaranteed fixed cost. There is literally nothing else to pay.
Shenton Group takes complete responsibility for all of the upkeep and all of the potential risks fall on us. We even replace critical components on a time-life basis to ensure your unit remains as-new throughout its lifespan. We also provide real-time remote monitoring and control, something our engineers use to sustain the system in a state of optimum performance. The client has open access to monitoring reports, providing transparency and peace-of-mind.
No Hidden Costs
Maintenance costs are not hidden away within the pricing. They are factored in at the very first feasibility stage and are always fully visible to the client. All savings and payback figures quoted include maintenance so that what you see is what you get. The savings are truly yours to keep.
Acoustics
Acoustics are a major part of any CHP installation and need careful consideration when carrying out financial and spatial planning.
Ventilation
Ventilation is key to any CHP system to ensure that the CHP doesn't overheat. Getting the correct cooling/ combustion air to your CHP and discharge air can be achieved with the use of ductwork ventilation systems, and, if required, the use of extra fans.
Flue Systems
In all CHP service and maintenance visits, some form of flue is required to conduct the exhaust gases outside. Shenton Group can service and maintain flue systems including stainless steel, twin-wall insulated, metal-sprayed mild steel versions, coloured to blend in with architectural surroundings.
G99
The connection of any form of generator device to run 'in parallel' or 'synchronised' with the mains electrical utility grid has certain regulations that must be complied with. These regulations are commonly known as the 'G99' requirements, and apply to Combined Heat & Power units, and Generators being used for peak-lopping, or grid parallel use.
The electricity grid operators (known as DNO – District Network Operators), refer to these units as 'embedded' generators, because they are embedded within the electricity grid, as opposed to being at the source of the national grid such as at a power station.
At Shenton Group, we have significant experience in this discipline, and can provide a turnkey service to take care of all G99 aspects for you. We can manage the entire formal application process to the DNO. We can supply the necessary G99 compliant devices and provide trained operators with certified equipment to carry out the final G99 witness test.
Black Start and Island Operation
Most CHPs only operate 'in parallel' with a grid power supply. However many units can be configured to run in island mode, in the absence of the grid. Additionally, some units can even self-start without any grid power being present. This provides significant flexibility for integration with client electrical infrastructure, including facilities for stand-by power etc.
In many instances, a thermal store is required to smooth out peaks and troughs in heat demand, and thus enable the CHP to keep running for as long as possible.
Thermal Stores
In many instances, a thermal store is required to smooth out peaks and troughs in heat demand, and thus enable the CHP to keep running for as long as possible.
What is NOx?
NOx is the chemical abbreviation for the most common oxides of nitrogen, and other compounds most commonly associated with air pollution. When any fossil fuels are burned in an internal combustion engine, NOx is one of the by-products of combustion. The only way to filter out NOx from exhaust gases is by means of a catalytic converter, or a catalyst as they're more commonly known. If using a standard catalyst, for NOx reduction to be effective, the exhaust gases passing through it from the engine need to result from perfect (or near perfect) combustion.
Perfect combustion is called stoichiometric combustion and this is when the exact amount of air required is mixed with the fuel during the combustion process. Often a combination of a stoichiometric engine and catalyst can result in NOx emissions as low as 20mg/Nm3.
Not all engines are able to be configured for stoichiometric combustion, due to the very high temperatures this produces. Under heavy loading an unsuitable engine would overheat. In CHP terms, this generally means stoichiometric methods for NOx reduction can only be used on smaller size units. In the Shenton Group range, these go up to 260 kWe.
For larger CHP systems, an engine with lean burn combustion must be used. This runs a lot cooler and can therefore be put under much heavier loads. The challenge with lean burn combustion is that the air to fuel ratio is much higher, resulting in non-stoichiometric combustion. This means a conventional catalyst as described earlier will not be effective in removing the toxic NOx gases.
Selective Catalytic Reduction
(SCR) uses urea as a reductant by injecting it into the exhaust pipeline where the aqueous urea vaporises to form ammonia. Within the SCR catalyst, the NOx gases are catalytically reduced by the ammonia into water and nitrogen, both of which are harmless.
Put simply, the injection of urea treats the exhaust gases to make them effective when passed through a catalyst. In the context of a CHP project, designers should take account of the considerable amount of space, and added complexity that an SCR installation requires.
Looking for CHP maintenance?
We offer a range of different support contracts to keep your CHP in optimal condition, providing you the best ROI. Find out more about our CHP maintenance contracts.
Sectors We Help
M & E Contractors
For the Building Services Engineer we offer significant support. From detailed design review, through assistance with sizing calculations, to control philosophy – Shenton Group is able to provide professional advice at all stages of your project. For the installing contractor we offer great support and many CHP units are held in stock to shorten lead times. We can assist with things such as BMS integration and hands-on advice on site when needed.

ESCo
Energy Services Companies can enjoy the class-leading performance from our range of CHP units. With high efficiencies and exceptional return on capital cost, these CHPs are perfect for your energy solution clients. Whether you are delivering a Discounted Energy Purchase (DEP) contract, an On-Site Utility or an Energy Performance Contract (EPC), you can be sure that CHP from Shenton Group is backed up by a unique maintenance service that will deliver outstanding efficiency to your client and long-life low operating costs for your bottom line.
With several hundred units deployed in the UK market, many of our ESCo clients are now also using our CHP systems to participate in balancing services and other grid-related revenue streams.

Biogas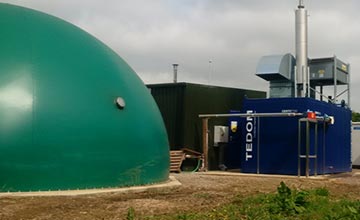 Shenton Group has significant experience in supplying high-performance CHP units to biogas applications. Some special features of our units include high tolerance to H2S, high electrical efficiency, and exceptional service life. We also provide a unique maintenance package with 24/7 remote monitoring and a choice of response levels, including some of the fastest in the industry.
This all combines to provide outstanding performance and very high availability time. This ensures that you can maximise the revenue from your biogas plant year after year.