What is Building Information Modelling?
Building Information Modelling (BIM) is a modern design technique that utilises software and a collaborative design process to make the procedure of developing buildings more efficient. Using Revit, Navisworks Manager or Navisworks Freedom software, 3D models are made available to architects, manufacturers, contractors and designers who are then able to work together simultaneously to focus on various stages of the project.
BIM software streamlines the design of buildings and factors in the analysis of sustainability and the impact on the surrounding areas using real-time modelling.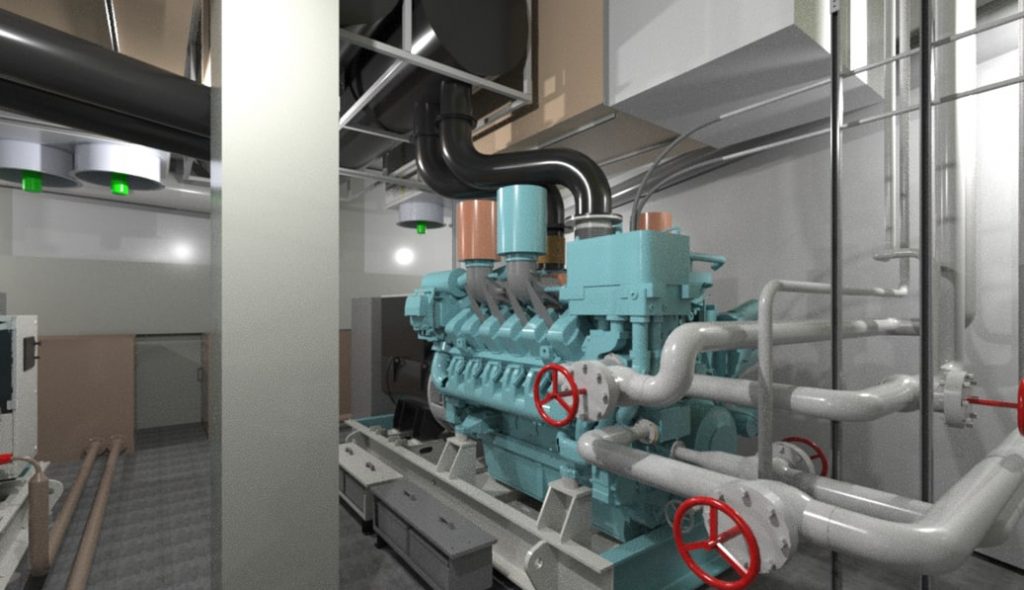 BIM Technology & Design Support
Shenton Group strive to provide a best-in-industry support service throughout the design phase, through the provision of accurate and detailed reference resources.

We help specifiers and consultants efficiently plan for successful installations with our BIM files readily-available on our website. For more bespoke solutions, our in house design team can produce BIM models designed to your specific requirements. Shenton Group take pride in providing unrivalled technical support and co-operation between suppliers, clients and their associates.
CHP and Generator Specific BIM Models
Generator and CHP models produced by Shenton Group include connections for the inlets and outlets of other services, allowing for the full scale accurate modelling, 3D model visualisation and calculations.
Specifically relating to CHP and generators, manufacturer models come with a maintenance zone, so you know how much clear space is required around the unit. This enables higher accuracy when space planning.
Shenton Group BIM objects are highly technical and have been produced using exact dimensions.
Not sure what model you need? Our dedicated team of engineers can help you select the correct model for your requirements.
Shenton Group's standard generators and CHPs BIM and Revit files are FREE to download from our technical downloads.
BIM Level 2 Certification
BIM models are widely used world over, and in the UK; the construction industry uses the BSI (British Standards Institution) BIM strategy as a framework to ensure all models meet specific criteria for their products and services. All content must also meets and exceed UK Industry Standards AEC, Bsi, PAS1192.2, BS EN ISO 19650 along with COBie parameters to meet UK Government standards.
BIM Level 2 is required for all public sector construction projects and therefore organisations must demonstrate compliance before any funding is released. At BIM Level 2, a collaborative approach has been introduced in the process of BIM where any data collected about a built asset is now shared. This data structure enables a complete BIM model to be produced with building components from numerous compliant sources, such as Shenton Group's generator BIM models, which all comply with Level 2 BIM.
Shenton Group BIM Models
We have taken strategic steps to keep at the forefront of technological advancements of BIM files making us the go-to company when it comes to Revit downloads of combined heat and power (CHP) and Generator units & accessories.
Our BIM Models are Level 2 complaint meaning they comply with the UK BIM framework and will seamlessly align with your construction process, allowing you to design and proceed with confidence.
Shenton Group's standard generators, CHPs and ATS Panel Revit files are FREE to download from our technical downloads.
Quicker, Cost Effective Design
A benefit of the BIM process is that you can accelerate workflow by downloading readymade BIM objects directly into your designs, which of course provides cost and time savings without the need to spend hours modelling BIM objects.
Revit objects can be reused, improving efficiency and our BIM objects come fully populated with the Generator or CHP technical data.
BIM Building & Facility Management Usage
The BIM lifecycle extends beyond the construction process, as when the project moves from design, to construction and finally to facility manager, a BIM model is a point of reference. Instead of having to investigate the actual building, the model can be used to look into any issues with a CHP, Generator, water leak or any other issue.