Temporary Power Solutions for Construction
Temporary power solutions for the construction industry are vital in ensuring that any lighting is provided, as well as power for basic building tools and equipment so that work can proceed. A generator will ensure that those on site can continue to work when access to the mains is not possible and that you know the cost of your temporary power supply from the outset.
Rental Generators for Continuous Power
Typically, temporary power supply from a rental generator ensures that a construction site can still function during a power cut, that those working on the site have site lighting in order to work safely, and that basic and heavy tools remain operational.
For large-scale projects, cabins, toilets, canteens, meeting rooms and offices are often located on building sites, and so a temporary power solution will ensure that these buildings have power, workers have a place of refuge, and there is room to manage site operation.
As well as on new build construction sites, a temporary electrical supply may also be required when undertaking:
Building repairs, extensions and alterations
Demolition work
Planned shutdowns
Engineering works
Civil engineering projects such as road improvements
Rental Generators for Planned Shut Downs
Organisations that already have generators on site from time to time need to be taken offline for maintenance. This was the case for a hospital that we look after… This particular hospital has 4 of its own on-site generators, two of which are running 24/7, with two on standby.
When our client's 4 on-site generators are taken off-line to be tested and serviced, we provide the site with 4 rental generators, with no break in continuous power. Having guaranteed reliable power throughout blackout testing for their generators for the last 6 years, Shenton Group continues to be a trusted provider that our client turns to time and time again. Shenton Group provides a fully project-managed service as well as complete maintenance support on the existing generators. To read the full story click here
Temporary Electrical Supplies Sourced from an Expert
When you need a temporary electrical supply, you should consult an expert. Your power demands will vary, therefore, a generator must be sized correctly to meet your needs or you run the risk of power loss.
Leaning on the expertise of a supplier such as Shenton Group is vital to ensure you choose the correct temporary power supply and equipment.
Shenton Group not only advises on the best solution for your needs at competitive prices but also offers added support for that peace of mind.
Onsite Support with Your Temporary Power Supply
At Shenton Group, we have vast experience in supplying construction site generators and understand the importance of having a reliable power source on site, and how achieving this ensures that deadlines are met. We offer full support during the time you are making use of our temporary power supply apparatus, including providing one of our experts onsite around the clock.
If power is critical to your project, or your site has any kind of power vulnerability, our comprehensive and professional service would be hugely beneficial to you. We supply not just the correct equipment but the technical support too.
Benefits of a Construction Site Generator
Below is a list of the benefits that come from renting a construction site generator.
Renting dependable power supply equipment ensures that you know you are going to have sufficient power on site as and when you need it.
Costs are not only affordable but anticipated too. We provide a quote for every job so you can factor this into your budget and there are no hidden surprises.
Our construction site generators are available to you for as long as you need. We understand that construction projects can overrun which is why we offer agile contracts to ensure you can continue to work for weeks or months longer and make upgrades, additions, cancellations and extensions.
We will support you all the way through the project with regular on-site servicing, maintenance and tech support 24/7 included in all our generator rental contracts.
Competitive pricing will ensure you are not paying over the odds to keep your temporary site lighting on.
Temporary Power Supply for Construction Sites
Temporary power supply on a construction site is invaluable. Heaters, dryers and boilers are just some of the equipment powered by a rental generator, preventing any unnecessary delay to your project.
In cold and damp conditions, the need to speed up the drying process in new build projects can mean work can progress much faster, in turn reducing costs. A reliable temporary power supply can assist in this process and our experts will be able to guide you in the right direction when it comes to sourcing best solution for powering any heating or drying equipment.
Looking to reduce the carbon footprint of your building?
As well as temporary supplies, we provide permanent heating and power supply solutions too. Our excellent CHP systems can be utilised for apartment blocks, student halls, leisure and hotel facilities in the plant room, giving you access to energy-efficient heating and power.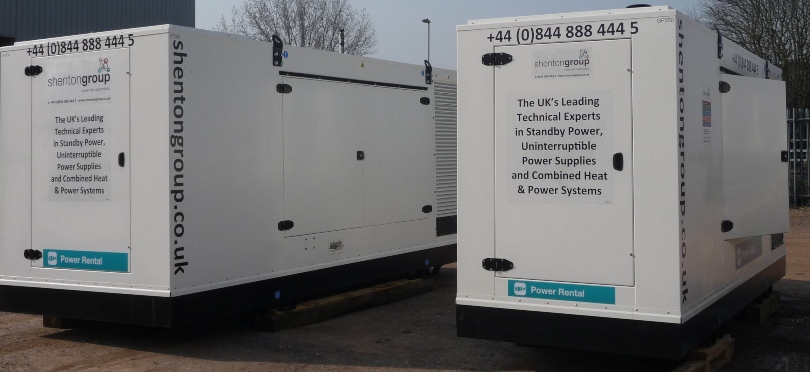 Temporary Power Optional Extras
As well as construction site generators, at Shenton Group we can offer a wide range of additional extras for rental generators, including on-site fuel management options, storage tanks, and generator refuelling for even the most remote locations.
From fire shutdown systems to anti-vandalism security kits, speak to our team about your requirements and we can supply any optional extras you might require.
Interested in Our Reliable Power Services?
We can offer support to help to keep your construction site project on schedule and the costs of temporary power in check. If you need more power, we can adapt with our flexible contracts and with maintenance included as standard, our tech support will ensure your temporary site electrical services are in operation at all times.
Do not run the risk of losing power which can bring your project to a standstill. We'll get things are up and running so that you have a reliable temporary power solution on site.
To ensure your generator rental requirements are met, delivered and set up correctly contact Shenton Group today.