Quality Assured CHP Revit Family Files for Download
Do you have a CHP (Combined Heat and Power) requirement? Save time and hassle by downloading Quality assured CHP files from Shenton Group and ensure you avoid project delays.
Shenton Group has the CAD experience, certifications and the latest software to produce Revit family files and RVT project files for new and existing customers. We have produced an extensive range of TEDOM CHP Revit models and accessories to meet the need of our clients, ranging from 7kWe to 2300kWe.
All of our BIM models are level 2 compliant and meet the construction industry standards.
Ongoing assistance throughout the project is available from our team of dedicated CAD/BIM engineers and CHP generator experts.
What is BIM?
BIM (Building information modelling) tools such as Revit are technically CAD programs; however, BIM is a process and methodology which enables teams of architects, manufacturers and contractors to collaborate and design everything required for a building or complex, where they are all working off the same database and computer model, no matter what part of the world they are in.
It does this by allowing the separation of real facilities like; HVAC, Mechanical equipment, Plumbing, Electrical, Walls, Windows and Ceilings, by showing them in a digital representation.
This practice allows the lead team/contractor overseeing the project, who has the central model to analyse and visualise the design and make decisions on the go, even before the physical ground is broken.
Why Use BIM and Revit Produced by Shenton Group?
BIM is now being used globally, and the UK construction industry is using the BSI (British Standards Institution) BIM strategy as a framework to ensure all models meet specific criteria for their products and services.
BIM's software and tools that have been produced to streamline the design of buildings, and allows analysis of sustainability and the impact on the surrounding areas using real-time modelling.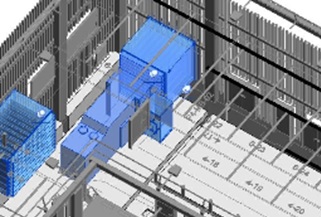 Shenton Group has been the 'go-to' provider of CHP Revit models since 2017. Supplying to organisations and contractors such as the British Army, NHS, financial sector, Telecoms Manufacturing, Retail & Distribution and Education to name a few.
Having a dedicated design department Shenton Group ensures Revit family models are accurate and concise. All Revit files contain the relevant COBi data required by the Government and provide an exacting product with specific data. These files are at your fingertips to download into your designs and ensure functional and energy-efficient requirements are met. We also assist our clients by producing space planning RVT's.
Bespoke Models to Download into Your Project
Aside from producing and supplying Revit families and BIM objects, we offer a bespoke CAD/Revit RVT modelling solution, where customers can leave the modelling of the CHP(s) and associated equipment to us, and we will create an RVT project file of our equipment to link into your central model.
BIM Model Maintenance
All models Shenton Group produce are maintained keeping the drawing dimensions and COBi data up-to-date. We ensure you have reliable accurate models when you need them, so you don't have to go finding them elsewhere, or producing them yourselves.
Tailored to Your Requirements
We offer free site surveys to review your site and provide detailed feasibility reports.
With any project, a dedicated project manager will see the project through from the detailed Revit family design, to full RVT Revit project file production of your power solution by our team of experts. With years of experience and technical expertise in serving a multitude of clients and sectors, we ensure you will get the correct solution for your needs.
To discuss any of our generator or CHP options and BIM objects, why not give our team a call, and we will be happy to assist.