Providing Specifiers with the Tools for an Expanding CHP Market
For Immediate Release
Hampshire, UK
Providing Specifiers with the Tools for an Expanding CHP Market
Annual figures for new Combined Heat and Power (CHP) schemes throughout the UK now exceed the 2000 mark. Key to installing a CHP system that delivers adequate heat and electrical capacities, whilst providing savings on energy bills and carbon emissions, is Buildings Managers, Energy Consultants and Specifiers utilising the correct information and tools from the initial scoping of the project. Cogeneration specialist, shentongroup, provides professionals with two new CHP whitepapers, as well as a wealth of supporting documentation including case studies, videos, data sheets and technical blogs.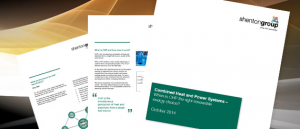 As the world takes carbon emissions more seriously this New Year in the wake of the recent and historical Paris United Nations Climate Control Conference, more and more focus will fall onto greener power systems and for those specifying and providing energy consultancy services, the opportunities for scoping Combined Heat and Power systems should continue to increase. Access to information and its correct interpretation and application will enable professionals to deliver CHP systems in a streamlined fashion and shentongroup's two whitepapers on CHP provide the foundations for any successful CHP solution.
"When is CHP the right renewable energy choice?" provides specifiers and consultants with a breakdown of the fundamental arguments for CHP. The benefits are examined and the drivers for CHP specification are covered, which includes identifying the key drivers for CHP specification. To further enhance the reader's understanding, an example project with feasibility study is presented.
Once a CHP system has been selected as the most suitable solution, shentongroup's second whitepaper, "Design and operational considerations to get the best performance from CHP systems" arms specifiers and consultants with the technical 'know-how' required to ensure technical elements of specification are approached correctly. This whitepaper will ensure common mistakes are highlighted and avoided and the key factors in achieving a high-performing and operationally-efficient CHP system are addressed. Whitepaper sections comprise; design philosophy, operating strategy, relationships with boilers and BMS, electrical infrastructure, G59 embedded generator regulations, spatial requirements and acoustic considerations. The whitepaper also provides professionals with a very practical look at the common pitfalls in CHP design.
shentongroup's Jody Meek commented on his company's resources: "As well as these very thorough whitepapers, to further increase tangibility and understanding, we also present a number of case studies on CHP projects. Having delivered and managed all stages of numerous successful CHP systems, case studies include all main end-user industries and can be found at https://www.shentongroup.co.uk/resources/whitepapers/".
In addition to CHP whitepapers and case studies, shentongroup further enhances specifier and consultant understanding through its technical blog, videos, datasheets and brochures, equating to one of the most complete and thorough CHP resources available free of charge online , available at www.shentongroup.co.uk.
###
Contact
shentongroup
Shenton House
Walworth Road
Walworth Business Park
Andover
SP10 5LH
Tel: +44 (0)844 888 444 5
Email: sales@shentongroup.co.uk
Web: www.shentongroup.co.uk