Leading Continuous Power Specialist Reports Busy Data Centre World
For Immediate Release
Hampshire, UK

Leading Continuous Power Specialist Reports Busy Data Centre World

Returning to London ExCel's Data Centre World, shentongroup, the UK's leading technical experts in standby power, uninterruptible power supplies, and combined heat and power systems, reported their busiest exhibition yet.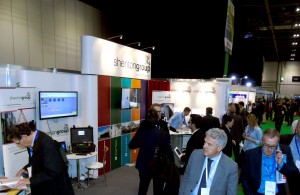 As the world's data centre sector adapts to changes in virtualisation and cloud storage, data centre managers must also address their continuous power supply requirements and of this year's 12,000 plus Data Centre World attendees, standby power and uninterruptible power supplies seemed to be high on their agenda.
Throughout the busy 12th and 13th of April show days, members of the shentongroup team were on hand to field a multitude of technical questions from inquisitive IT Directors, Data Centre Managers, Engineers, Operations Directors and more. From uninterruptible power supply solutions, through to questions relating to standby generators and their maintenance, visitors were also able to watch live demonstrations of shentongroup's HawkEye2 remote monitoring system which provides 24/7 remote monitoring of all makes of generators and even delivers full condition reports via phone and GSM.
shentongroup's Marketing Manager, Phil Chilton, reflected on shentongroup's very busy and successful two day's at Data Centre World: "Data Centre World is a superb exhibition that brings together all of those working across the Data Centre sector and we always enjoy being there. This year's event was a real hive of activity and we met more attendees than ever". Phil added: "The demonstrations of HawkEye2 really gained some interest, as seeing is believing with our state-of-the-art remote monitoring system.   We also had a good number of attendees enter our superb competition to win a helicopter flight for two over London, the winner of which we'll be announcing through our website soon".
shentongroup has enjoyed supplying best-in-industry continuous power solutions to the Data Centre sector for a number of years now and those wishing to learn more will find two dedicated case studies; "Generator Install Provides Standby Power System for Building Infrastructure and Data Centre" and "shentongroup Wins Major UPS and Generator Project for Telecoms Data Hosting Centre" on the company's website.
###
Contact
shentongroup
Shenton House
Walworth Road
Walworth Business Park
Andover
SP10 5LH
Tel: +44 (0)844 888 444 5
Email: sales@shentongroup.co.uk
Web: www.shentongroup.co.uk