Big Brands Demand the Best Standby Power Solutions 
When a leading International retailer needed a reliable standby power solution to keep it's second UK distribution centre fully operational 24 hours a day, 365 days per year, it turned to shentongroup, the UK's Leading Technical Experts in Standby Power, Uninterruptible Power Supplies and Combined Heat & Power Systems.  Besides, our team had already proven themselves by providing equally robust solutions for our client across other important locations.
Working directly with the end-user, shentongroup completely project-managed the entire installation and commissioning of a 2.2mVA generator at one site and 2 x 1.1mVA standby generators at another, all within just 11 weeks, executing changeover within a tight 2000hrs to 0400hrs shutdown window.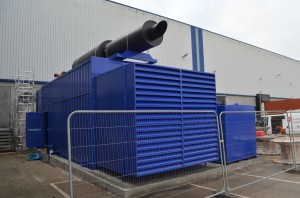 The instal featured a concrete slab, Armco, bulk fuel storage, as well as a permanent load bank and major LV switchgear alterations.  The generator containers feature our client's distinctive colours and livery, ensuring optimum brand consistency and boasting a quiet 75dB(A) @ 1mtr noise rating!
If your organisation simply can't afford any down time this winter, then speak to a member of the shentongroup team today.  Why not check out our homepage widget for a real-time look at the UK's electricity national grid demand and output per production type now!