As UK AD Industry Booms shentongroup Unveils Larger Tedom CHP Units at UK AD & Biogas 2016
With UK AD & Biogas 2016 fast approaching, Business Green announces that the UK is experiencing the beginning of a 'green gas revolution'. Although it argues that green gas is several years behind renewable electricity, it seems poised for a 'stellar growth' in the UK.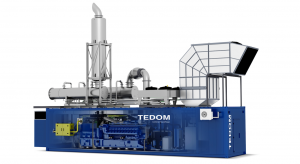 The country now houses circa 200 Anaerobic Digestion (AD) plants operating on farms across the UK, producing enough green gas to supply around 100,000 homes. By 2035, it is estimated that this figure will expand ten-fold. With a number of Tedom Combined Heat and Power units running on biogas, the possibilities for organisation wishing to ride this 'new wave' of AD growth are endless.
For those unfamiliar with AD, when any organic material is broken down by micro-organisms in the absence of oxygen, the process is known as Anaerobic Digestion (AD). It's an unavoidable and natural process, and harnessing the resulting biogas produced to make cheaper, greener electricity is the first process of Combined Heat and Power (CHP).  The heat generated through this process is then converted into hot water and heating, resulting in even more efficient and affordable energy.
This year's UK AD & Biogas, taking place over the 6th and 7th July at Birmingham's N.E.C, is set to attract huge interest from those curious of how their organisation can benefit through AD. At stand G201, shentongroup's team of Combined Heat and Power experts will be on-hand to discuss how AD and Biogas can provide cheaper, greener electricity through CHP. As the sole distributor of Tedom CHP systems throughout the UK and Ireland, shentongroup will be proudly unveiling the new, larger Quanto range of Tedom CHP units. With a number of systems operating using biogas, organisations with demand for hot water and wishing to lower their CO2 emissions and overall power costs should definitely stop on by.
Click here to reserve a slot with a shentongroup team member and keep a look out for #UKADBiogas2016.