Two 1,400kVA Generators Installed For Major Retailer as More Coal Power Stations Close
We're proud to have just dispatched for install two 1,400 kVA standby generators to a major UK clothing retailer's large distribution centre. Following extensive testing at our Andover HQ, the large, capable units will protect the business from increasingly probable mains power supply outages.
Most serious organisations understand the importance of continuous power and it's ramifications on their business systems and services. Even more news emerged last week confirming the increasing risk to the UK's power supplies, something that we've spoken about considerably as of late. Energy giant SSE has announced that it is considering shutting its large Fiddler's Ferry coal-powered plant earlier than expected. The Cheshire-based plant produces enough power to supply two million UK homes and in 2014 it even secured a subsidy contract with the government to guarantee three of the plant's four units to be available to generate power into 2018-19.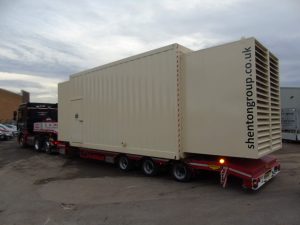 For our retail client though, the two 1,400kVA generators will protect their distribution operations against any brownout or blackout that the National Grid can throw at them. Connected to two 13,000 litre fuel tanks, the 19.5 tonne units feature bespoke load bank connection points inside the units and the load connection box on the sides. Although giants in stature and power, the units are relatively quiet and are supplied within acoustic containers with a specification set at 75 dBA @1 metre.
Is your organisation as prepared for mains power outages as this business?  If you'd like to learn more about protecting your business and your clients, speak to a member of the shentongroup team (click) to discuss your continuous power supply options now!