Tedom T80 CHP System Provides Student Accommodation With Cheaper Greener Energy
The advantages of Combined Heat & Power amplify when it is utilised by organisations requiring, not only lower-priced and greener electricity, but also with a demand for large volumes of hot water. When a prominent student housing organisation recognised that, like many of its locations, a student housing building in Lambeth would benefit from a CHP system, the project contractor enlisted shentongroup to deliver an innovative solution for an area deemed unsuitable for a standard CHP external container.
Working closely with contractor LJJ Limited, shentongroup advised on the installation of a Tedom Cento T80 CHP system within a small area on a rooftop that would not permit a standard Tedom external container. With a track-record of installing continuous power systems within hard-to-reach and restricted areas, shentongroup Project Manager, explains how his team overcame a demanding install: "With the challenging and restrictive rooftop location, as well as a need to deliver a low noise solution, we opted for a Tedom indoor open-frame design. We had this packed inside an acoustically lined protective external "close-fit" enclosure. Therefore, as well as the T80 system now being successfully housed on the building rooftop, it operates quietly whilst being sufficiently protected from the elements".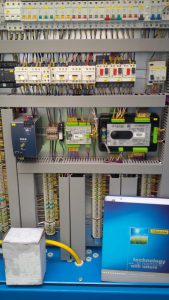 The Tedom T80 is part of the Cento series of Combined Heat and Power systems; a high-performance range of units that operate using less expensive natural gas and reducing power consumption from the incoming mains supply. The heat generated from electricity production is then channeled to provide large volumes of hot water, making Cento systems ideal for residential and district heating solutions. Producing 81kWe electrical output and 120 kWt thermal output, the T80 boasts 87.3% total efficiency, which could save up to £40,000 per year off utility bills.
The Lambeth-based student accommodation can now manage its large hot water demands, whilst benefitting from lower energy bills and a smaller carbon footprint. To find out more about Combined Heat and Power (cogeneration) and how your organisation could enjoy cheaper, greener energy, click here to speak to a member of the UK's leading technical experts in Standby Power, Uninterruptible Power Supplies and Combined Heat and Power Systems.