shentongroup's Very Own Good Samaritan
Yesterday, we reported on how our teams were out in the snow still delivering top class service to our clients in freezing temperatures.  We start today by reporting on shentongroup's very own "Good Samaritan".  Instead of describing what he did you can read first hand from these two emails we received last night:
"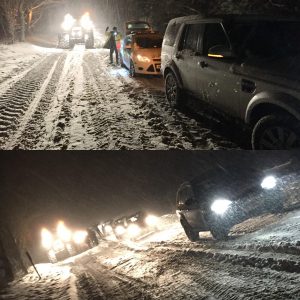 I am sending this email to express my sincere gratitude to one of your employee's, a VERY nice young man called Darryl? He was driving towards Romsey this evening in truck 074.  This wonderful young man is a credit to mankind, your company & most importantly himself.  Darryl? Helped so many people including myself to continue our journeys home by towing complete strangers up a hill & advising on the best route to take for our onward journey. Thanks to Darryl I didn't even know I had an attachment to hook on the front of my mini!
Please, please, please give Darryl a MASSIVE pat on the back for his actions.
I even tried giving him some money as form of thank you but he refused to accept it.
I very much hope I am contacting the correct company?"
JP
…and another email….
"I would just like to say thank you to one of your officers for the admirable assistance he was providing to the public and myself on the A3090 hill from Ower towards Romsey.
His assistance in pulling vehicles to safety up the icy road was brilliant.
As the weather set this evening I was returning to the Romsey station in my front wheel drive police vehicle having returned a victim home after a nasty crash. I too needed assistance up the hill which your man provided!
I didn't get his name, but I am fairly sure he was driving one of your Range Rover 4x4s – Unit 74, I think…
Either way. Please say thank you for me."
Police Constable
In fact, the employee responsible for this is Daniel Skudder (Not Darryl 🙂 ) who works at shentongroup as a Project Manager.   Thank you Daniel for helping so many people and a Policeman in the snow, shentongroup's very own "Good Samaritan".  On top of this, others at shentongroup have been using their vehicles to help those that are stuck in the snow…we have lost count of how many that have been pulled out, towed, pushed or whatever was needed to get them going.
Stay safe in the snow.