Shenton Global Review RAM Tracking's GPS Vehicle Trackers
With engineers and depots throughout the length and breadth of the country, knowing exactly where our team members are located ensures that we deliver our project efficiently, safely and on time. To achieve this, shentongroup currently has 36 vehicles installed with RAM Tracking's vehicle trackers.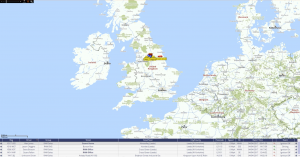 RAM Tracking spoke with shentongroup Executive Assistant, Aleksandra Johnson, who works very closely with RAM Tracking vehicle tracking software, to gain a more in-depth understanding of how vehicle tracking has helped improve shentongroup fleet management.
RAM Tracking: Why did you initially feel vehicle tracking was necessary for your fleet?
Aleksandra: "With the constant progress in technology nowadays, we felt like we needed vehicle tracking for our business to stay innovative. We were looking for a tracking device that was reliable for us to give the best possible service to our customers, and after doing some shopping around, decided that was with RAM Tracking."
RAM Tracking: Do you feel vehicle tracking improved the safety of your fleet?
Aleksandra: "Definitely. The safety of our drivers is very important to us here at shentongroup and RAM Tracking's vehicle tracker gives us the confidence that, if an incident were to occur with one of our drivers, we would get alerted straight away and be able to locate them quickly and accurately. The system also allows us to access the speed of the vehicles as well as other poor driver behaviours, so we can ensure our drivers are driving responsibly which also helps improve our duty of care to our drivers. It also allows us to monitor the hours our drivers are working so we can ensure they don't exceed their hours so they're not driving tired."
RAM Tracking: What are the main benefits that have you seen to your business since having tracking installed?
Aleksandra: "It has helped us massively when it comes to monitoring private mileage. The private mileage reports allow us to easily distinguish when vehicles are being used for business and private use. It's also particularly helpful when it comes to keeping our customers happy as we can give our customers the most accurate time of arrival and also reroute vehicles if they get stuck in traffic etc."
RAM Tracking: Do you feel as though tracking your vehicles has ensured more efficient routing? If so, have you seen an overall improvement in your customer service and feedback from customers?
Aleksandra: "Yes, definitely. We had an incident not that long ago where a driver had reached a dead-end and struggled to find the customer. We intervened from the office using the RAM Tracking portal and were able to see where the driver was and redirect his route. This ensured the driver got to the customer on time, avoiding any complaint or dissatisfaction."
RAM Tracking: Have you downloaded the RAM Tracking App? If so, what three ways has the app helped in your day-to-day job?
Aleksandra: "I don't personally use the app, but I am aware that the directors and managers have the app installed on their mobiles which is really useful for them if they're away from the office, but still need visibility of the fleet."
RAM Tracking: Can you describe the RAM Tracking product and service you have received in 3 words?
Aleksandra: "I would probably say; informative, secure and beneficial."
To find out more about RAM Tracking, click here.