National Grid Driving Combined Heat and Power Specifying
Specifying for Combined Heat and Power (CHP) systems will continue to take on more importance over the coming year, thanks to failings of the National Grid and advancements in CHP technology. We've discussed in detail how companies including Centrica have warned of a 'looming gap' in UK energy supplies. More recently, new research projects that, with almost 25GW of generating capacity due to close by 2030, and with replacement power projects failing to come online fast enough, a 'looming energy crunch' is on the horizon.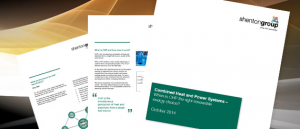 Combined Heat and Power is an attractive solution to the threats to continuous power supplies, especially for organisations with greater hot water demands. Of course, with cogeneration systems, the heat generated from electricity production is channelled into generating hot water and heating. For an understanding of how CHP can bring cheaper, greener and more reliable electricity and hot water supplies to housing developments, read this short and to the point case study: "Combined Heat and Power Systems for New Housing Development in Surrey".
In addition to the aforementioned case study, specifiers will benefit from reading shentongroup's whitepapers; "Design and operational considerations to get the best performance from CHP systems" and also, "When is CHP the right renewable energy choice?" – Both whitepapers guide the reader through the main aspects of Combined Heat and Power solutions. To discuss your requirements in greater detail, get in touch with a shentongroup CHP expert now.