The Many Benefits of UK AD & Biogas 2016
If you've not noticed yet, UK AD & Biogas 2016 is on its way.  It's 'the' annual event for those interested in Anaerobic Digestion, Biogas and how to harness this natural resource to the advantage of their organisations.
Here are just some of the key attractions at this year's exhibition which takes place over 6-7 July 2016 at Birmingham's N.E.C:
> Over 3,500 visitors from key sectors including; farming, food and drink, local authorities, waste management, utilities, transport and more are expected to attend. So great opportunities to liaise with your counterparts.
> 300 international exhibitors will be showcasing the very latest in AD and Biogas technologies and practices – providing an insight into how your organisation can thrive through AD and Biogas.
> A Research and Innovation Hub takes place on both days – Notable speakers examine new developments, practices and approaches towards "Building a world-class AD industry"
> A Farmers' Breakfast Briefing and Local Authority Networking Lunch bring together distinctive industries that can benefit from harnessing AD and Biogas more efficiently and more effectively.
> Two site visits are planned to provide those who book in advance with first-hand exposure to real-life AD & Biogas plants.
> Located at stand G201, shentongroup's team of Combined Heat and Power experts will be fielding questions surrounding the utilisation of biogas for the production of electricity and heating. Launching the new, larger range of Quanto CHP units from Tedom, the shentongroup team will be on-hand to discuss how your organisation can benefit from cheaper, greener and more efficient energy.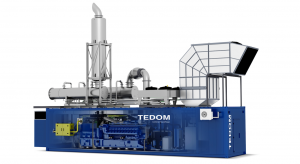 With a number of units in the Tedom range operating using biogas, the heat produced from the production of electricity is used to produce large volumes of hot water for cleaning and heating purposes.
Whether you'd like to find out more about CHP, or the new Quanto range of units from Tedom, you are invited to book a slot with an expert in Combined Heat and Power by following this link.