Generator refurbishment for major Media company
shentongroup successfully completed a generator refurbishment recently for a highly successful and major UK Media company.
The 100 kVA Generator needed several upgrades, the first of which was the installation of a brand new canopy around the existing Generator.

  To bring the unit up to date it also required a brand new synchronising Control Panel.  To ensure complete control over the generator we installed a Deep Sea DSE8610 controller on the Generator itself and a Deep Sea DSE8660 controller on the AMF Panel.
At the client's request we also installed a 2,000 litre Fuel tank to ensure they always had plenty of fuel to deal with any backup power emergency.  Powerpipe was used to connect the fuel tank to the Generator to give the client extra peace of mind.  Lorraine Pragnell, Service Operations Manager (Generators and UPS) said – "We were extremely pleased with how this project progressed and our relationship with the client was excellent from start to finish.  This proves yet again that shentongroup can and will deliver on a diverse range of projects involving Generators, UPS's and CHP systems."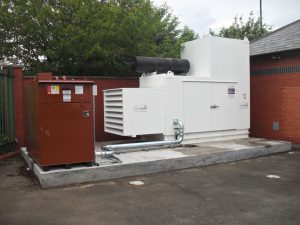 To finish off the project fencing was erected around the new Generator compound.  This project was expertly managed by our Power Care team and I'm sure you will agree that, after looking at the on site photo, they did a great job!
.
.