Generator Providing Prime Power for Offshore Luxury Hotel
With expertise in installing continuous power solutions in hard-to-reach locations, shentongroup recently provided a 300kVA diesel generator to a unique offshore hotel close to Portsmouth.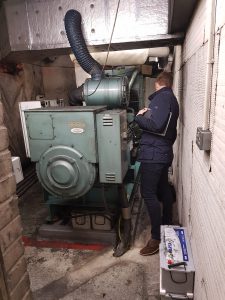 One of three forts completed in 1880, located near the mouth of the river Solent, No Mans Fort has been used as a private home and a hospitality centre and in 2015, a fully refurbished No Mans Fort opened as a luxury hotel. It offers 23 spacious ensuite bedrooms, five bars, casual and formal dining, rooftop hot tubs and a cabaret club, all of which pose significant energy demands on the fort.
No Mans Fort's diesel generator system had come to the end of its design life and needed replacing. Since first approaching shentongroup 10 years ago for a diesel generator solution for nearby Spitbank Fort (click here to learn more), Solent Forts once again turned to shentongroup to provide a robust prime power generator solution.
With bedrooms, catering, entertainment, lighting, security and communications all demanding reliable continuous power, shentongroup's Les Chapman and Darby Thomas helped to oversee the provision of a powerful 300kVA open-set Diesel Generator, more than capable of guaranteeing ample prime power to keep No Mans Fort fully operational, 24/7.
Due to logistical restraints and trying to transport the weight of the generator across the sea to the fort, the generator needed to be broken down into parts. shentongroup delivered the parts to portside and they were then transferred the rest of the way by barge and craned onto the fort.  The unit was then built on site.
Martin England, Clarenco's Central Support Director stated: "We've had a very good relationship with shentongroup over the years. We're happy with the service, technical expertise and the solutions to match".
No Mans Fort is now assured that guests will enjoy their stay, with the numerous and varied electrical demands of the fort fully and reliably powered.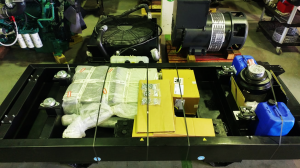 To learn more about securing your organisation's continuous power, no matter how remote, click here to speak to the UK's leading technical experts in Standby Power, Uninterruptible Power Supplies and Combined Heat & Power Systems.