Find Out How The Energy Management Summit is Unlike Any Other Event
The Energy Management Industry is gearing itself for this year's Energy Management Summit (@EnergyMSummit), taking place on 4th October at Radisson Blu Hotel, London Stansted. It's a platform for collaboration between those looking to reduce their energy costs and those who provide the latest solutions and services. That's where shentongroup fits in as the UK's leading experts in Standby Power, Uninterruptible Power Supplies and Combined Heat & Power Systems.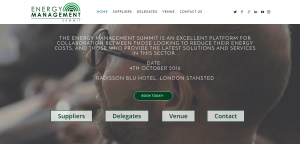 Unlike other industry events and exhibitions, The Energy Management Summit is far more focused, comprising pre-booked, one-to-one meetings and networking opportunities. For delegates, the event allows them to pre-arrange meetings with the solution providers of their choice. The 20-minute slots will be relaxed, informative and without a hard-sell approach. Delegates can compare products, services and solutions and will be one of just 70 VIP's at the event, guaranteeing they get the time and attention needed. A tailored programme of inspiring seminars is also on offer.
We'll be helping delegates to understand how they can achieve large savings on their energy with Combined Heat and Power (CHP). Utilising cheaper, greener and increasingly more readily availably natural gas to generate electricity, CHP systems then utilise the heat generated to provide hot water and heating.
Attendance to the event is free-of-charge and includes an itinerary of meetings and seminars, meals and refreshments. To book your space, click here.