Another successful Generator installation by shentongroup
We at shentongroup take on any challenge when it comes to installing Generators, UPS or CHP systems.  Big or small, we always apply the same high standards of project management and workmanship to deliver for our clients.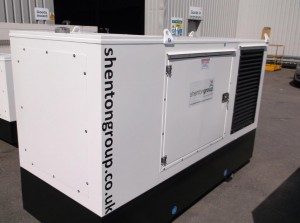 At a project in Leicester Square we had to hoist one of our 110 kVA generators up to the 8th floor.  It came with a Perkins 1104C-44TAG2 industrial diesel engine and a weatherproof acoustic canopy designed to achieve a noise level of 70dB(A) @ 7 metres in free field conditions at 100% load.  We also supplied a 490 litre base fuel tank and a Flue Dilution duct work system.
The generator was delivered in our trademark shentongroup giftwrap for that extra personal service. #genbow