Another successful Generator install by shentongroup
Another successful Generator install at a large hospital was carried out by shentongroup in February 2015.
The Generator itself is capable of producing a maximum 550kVA at 400 volts, 3 phase, 50Hz @1500rpm with a prime power output of 500 kVA.
The bespoke soundproof Canopy ( 55 Dba @ 7M ) was built in such a way that it could be taken apart, this allowed the site crane to lift the base and canopy separately due to weight limits.
All the lift operations were planned and Project Managed by shentongroup using an Approved lifting specialist. The onsite works were completed in 2 days and involved laying a temporary roadway on Day 1 and then the Lift and Shift on Day 2.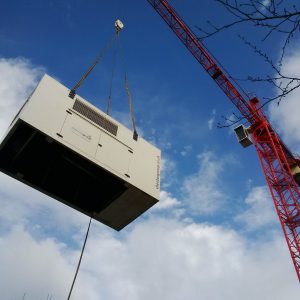 Each section was weight tested at shentongroup prior to being delivered to site using a Bluetooth Load Cell.  We will also be providing Remote Monitoring, Re-fuelling and Maintenance services for this Generator. Another happy customer!