Although shentongroup provides best-in-industry Diesel Generators, Uninterruptible Power Supplies and Combined Heat & Power Systems, even the very best continuous power solutions need regular maintenance and support to guarantee their optimum performance and reliability.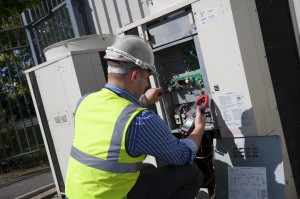 shentongroup's Power Care division comprises a truly nationwide network of satellite offices, Service Engineers and depots, providing a range of maintenance contracts to support all types and all sizes of continuous power solutions. Power Care encompasses Standby Generator, UPS, CHP, and HV and LV maintenance contracts; Generator load bank testing, fuel polishing and Generator refueling. It also provides backup power remote-monitoring in the form of shentongroup's own HawkEye2 24/7 to support our generators, and for CHP, we have a dedicated remote monitoring station.
With headquarters in Andover, Hampshire, shentongroup satellite offices provide extended customer services and support from London, Edinburgh, Lowestoft and Leamington Spa. Ensuring that every corner of the British Isles can be reached within minutes, shentongroup Service Engineers and generator depots are sited in no fewer than 28 far-reaching UK locations including Birmingham, Bournemouth, Bristol, Cambridge, Craigavon, Farnham, Edinburgh, Gloucester, Hamilton, Maidstone, Manchester, Penrith, Peterborough and Swindon.
HawkEye2 remote monitoring system extends our levels of support even further. From modem-based systems, through to sophisticated web-based monitoring, HawkEye2 allows your generator equipment to be monitored continuously from shentongroup headquarters and enables us to identify and rectify even the smallest issue, well in advance of any risk to equipment failure. Along with identifying potential issues, HawkEye2 automatically starts your generator, running it for ten minutes to check vital parameters including voltage, frequency, oil and water temperature, battery condition, emergency stop and fuel levels. After the test, HawkEye2 will, not only inform our Service Engineers of any work that needs carrying out, but will also send you your very own report via SMS or voicemail.
Outstanding continuous power demands outstanding maintenance and support. For accessible, reactive and rapid continuous power support, click here to discuss your ideal Power Care maintenance contract with a member of the UK's leading technical experts in Standby Power, Uninterruptible Power Supplier and Combine Heat & Power Systems.